---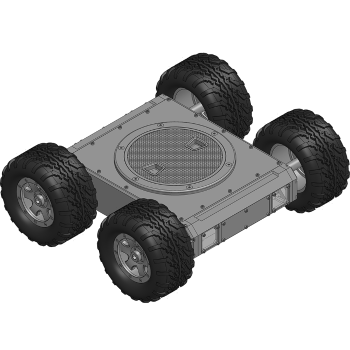 Table of Contents
Description
The Lynxmotion A4WD3 Rugged Rover is a general purpose mobile robotic platform. The frame is intended to be used in three configurations: 4WD; Mecanum & Tracked, and variations of each platform include without electronics (so developers can integrate their own parts); an RC version and microcontroller-based for autonomous or semi-autonomous use.
The machined aluminum frame integrates rotary seals around each motor shaft, and solid rubber cord between the frame and all panel openings, making it dust and water resistant. A large marine inspection hatch on the top panel provides easy access to internal parts as well as being able to quickly swap or recharge batteries. Aside from the internal electronics mounting plate, the platform is symmetric and can be inverted.
The rover includes four powerful 12V DC motors coupled to 51:1 all metal planetary gears. The rear shaft of each motor is equipped with a magnetic encoder which provides 12 pulses per revolution (PPR). These motors provide 4WD and allow the rover to reach a top speed of around 3m/s (120"/s) without payload.
Front and rear access panels are made of G10 composite and are intended to allow users to machine openings to add their own components, which may include a wired tether for power and control, LED or LCD feedback, a handle, or whatever else their application may need. Included are a pair of transparent polycarbonate panels which allow for an internally mounted camera and/or or LED lights for increased visibility. Additional panels are available separately.
This version includes (assembled) bead lock off road wheels offer great traction on a variety of surfaces and are foam filled and offer 40mm of ground clearance, allowing it to be used effectively over brush, forest floor, paved and unpaved roads, in urban environments and more. This wheeled version can reach a top speed of around 3m/s (120"/s) without payload.
Features
Planetary geared DC motors (12V) with rear encoders
Machined aluminum frame with G10 composite plates
Shaft seals & solid rubber cord for water and dust resistance
Internal mounting plate for electronics & battery
Water and dust resistant frame
Specifications
A4WD3 Wheeled
Max speed: ~1.4m/s (55in/s)
Weight: 5.0kg (11.023lbs)
Rating: Water and dust resistant
Chassis: Aluminum frame & G10 (fiberglass) Pannels
Wheels: 158mm beadlock offroad tires
Motors
Output Shaft: D-Shape 8mm
Operating Voltage: 12VDC
Gears: Metal planetary gear
Unload Speed: 170RPM (±10%)
Loaded Speed: 145RPM (±10%)
Torque: 11.5kg.cm (9.98lb.in)
Gear Ratio: 51:1
Current: ≤3A
Encoder
Operating Voltage: 5V
Signal: Square wave AB 90 deg,
Pulse: 12 PPR
Frequency: 800kHz
Dimensions
Length: 377mm / 14.843"
Width: 437mm / 17.205"
Height: 158mm / 6.220"
Ground clearance: 41mm / 1.614"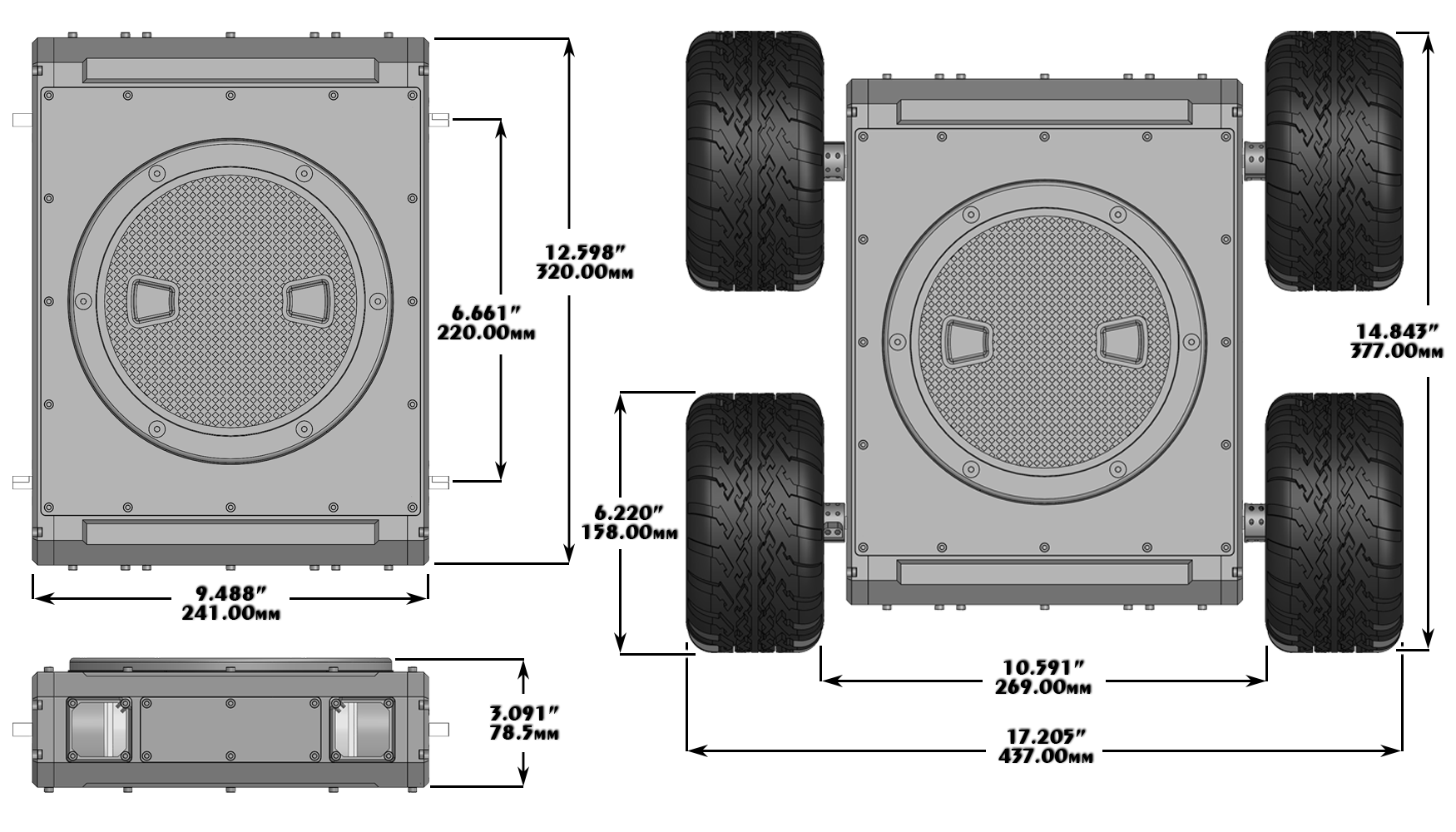 User Guide
| | |
| --- | --- |
| | A4WD3 Wheeled Rover  steps: |
What's Included
Radio Controlled Kit

Wiring

Mot. Controller

Batteries

1x WH-XT60-XT30-01
1x SEA-01
1x T8S-BT
Sabertooth
1x SL-LP-08
Power Harness
Servo Cable 12"
Servo Extension Cable 6"
8 CH Remote with PPM Receiver
2x12A
4000mAh 3s LiPo Battery

Chargers

1x B3AC
LiPo Charger