10 - Smart Servo PRO (LSS-P)
---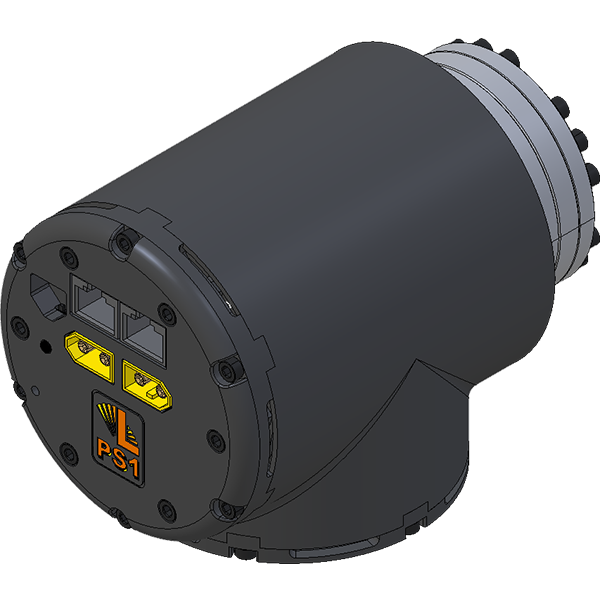 Table of Contents
Description
The Lynxmotion Smart Servos (LSS) PRO series are modular, configurable actuators designed to be a significantly more powerful and accurate evolution of the Lynxmotion Smart Servo (LSS) hobby series of actuators for use in semi-professional or professional multi degree-of-freedom robot arms, animatronics, research projects and more. The PRO lineup currently includes three servos, two of which appear physically similar, sharing the same cap and plate, but differing in maximum torque and speed as well as gearbox size and mounting. The third actuator is physically the largest of the three and offers highest torque.
The servos form the basis of the next generation Lynxmotion Servo Erector Set Professional modular robotic construction system (S.E.S. PRO) and a variety of modular brackets, mechanics and electronics have been designed around them. "Smart" means each servos' parameters are user modifiable and configurable, there is sensor feedback, built-in safety features, and although meant to be connected to a computer, can be connected to a microcontroller or device with CAN communication. The custom PRO LSS serial communication protocol was built upon the LSS & SSC-32 / 32U protocol and makes communicating with, controlling and configuring these PRO servos easy and intuitive.
NOTE: The Lynxmotion PRO Smart Servo motors, as well as the SES PRO modular construction system is NOT fully open source. RobotShop has provided sample Arduino code for the onboard electronics, but cannot provide details relating to schematic or additional components used internally. Opening the servos without the express permission from RobotShop will void the warranty.
Lite / LSS-P-L1
Standard / LSS-P-S1
Mega / LSS-P-M1
Features
USB input and CAN BUS Communication
Human readable LSS Pro Communication Protocol (actions, queries, configurations)
Daisy chained: RJ45 & XT60
Feedback: position, temperature, IMU, operating status & more
All metal strain wave gear coupled to a powerful NEMA stepper motor
30V nominal input voltage
Specifications
From the outside, the small and medium servo are very similar, though the small actuator is considerably lighter. It is easiest to differentiate between the small and medium PRO servos with the side plate removed: the small actuator incorporates a small stepper motor, whereas the medium uses a stepper motor which takes up most of the cavity within the frame.
Power
The PRO servos are meant to be powered from either a battery source or a DC wall adapter equipped with an XT60 connector. When selecting a power source, ensure it will be able to provide sufficient current to power all of the servos in the project. Only provide power to ONE of the two XT60 connectors. Please refer to the LSS PRO - Specifications page for more information.
Navigation
Dimensions
| | | |
| --- | --- | --- |
| Lite / LSS-P-L1 | Standard / LSS-P-S1 | Mega / LSS-P-M1 |
| | | |
PICTURE
NAME / DESCRIPTION
Lynxmotion SKU
RobotShop SKU
CAD

Lynxmotion Smart Servo PRO Lite (LSS-P-L1)

14Nm (7.5rpm) / 6Nm (15rpm)
Speed to Torque curve (coming soon)
Weight: 1.1Kg

LSS-P-L1
RB-Lyn-1158

Lynxmotion Smart Servo PRO Standard (LSS-P-S1)

60Nm (7.5rpm) / 32Nm (15rpm)
Speed to Torque curve (coming soon)
Weight: 1.52Kg

LSS-P-S1
RB-Lyn-1159

Lynxmotion Smart Servo PRO Mega (LSS-P-M1)

130Nm (3.75rpm) / 60Nm (7.5rpm)
Speed to Torque curve (coming soon)
Weight: 4.5Kg

LSS-P-M1
RB-Lyn-1160