---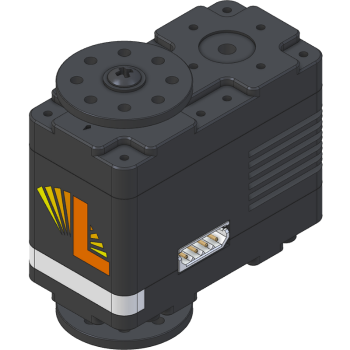 Table of Contents
Description
The Lynxmotion Smart Servos (LSS) are new, compact, modular and configurable actuators designed to be an evolution of the standard RC servo for use in multi degree-of-freedom robotics, animatronics, custom RC projects and more. The servo lineup currently includes three "smart servos" which appear physically the same, sharing the same dimensions, mounting points and output spline, but differing in maximum torque and speed. The servos are core modules of the next generation Lynxmotion Servo Erector Set (S.E.S.) modular robotic construction system and a wide variety of modular brackets, mechanics and electronics have been designed around them. "Smart" means each servos' parameters are user modifiable and configurable, there is sensor feedback, built-in safety features, and they are although meant to be connected to a microcontroller, can be used as advanced RC actuators. The custom LSS serial communication protocol was built upon the SSC-32 / 32U protocol and makes communicating with, controlling and configuring the servos easy and intuitive.
NOTE: The Lynxmotion Smart Servo motors, as well as the SES modular construction system is NOT open source. As such, RobotShop cannot provide the schematics for the electronics, nor any details relating to the components used internally. Opening the servos without the express permission from RobotShop will void the warranty.
Features
Serial, RC PWM and continuous rotation modes
Human readable LSS Serial Communication Protocol
Button Menu, RGB LED
Feedback: voltage, current, position, temperature, operating status and more.
Configurable: center position, angular range, direction, speed and much more.
All metal gears for high torque and reduced wear
Libraries: Arduino, Python, ROS
12V nominal (3S LiPo ideal), 6-12V operation*
Standard 24T output spline (compatible with accessories made for Hitec 422, 645MG servos)
Many Mounting points, brackets, accessories
* Note that the servo's maximum speed and available torque both decrease with lower input voltage
Specifications
The easiest way to differentiate between the three models is based on the sticker, located at the rear of the servo. Lynxmotion software automatically determines which model is connected. Detailed product specifications regarding voltage, torque, speed, temperature and more can be found on the LSS - Specifications page. Note that these servos are intended primarily for hobby, educational and semi-professional use. They are not intended for industrial, medical or related applications and are not certified as such.
Power
The servos are meant to be powered from either a battery source or a DC wall adapter. When selecting a power source, ensure it will be able to provide sufficient current to power all of the servos in the project. Please refer to the LSS - Specifications page for information regarding input voltage and current for each servo motor.
Navigation
PICTURE
NAME / DESCRIPTION
Lynxmotion SKU
RobotShop SKU
CAD

Lynxmotion Smart Servo Standard (LSS-ST1)

Speed: 50 RPM
Torque: 8 Kg-cm

LSS-ST1
RB-Lyn-989

Lynxmotion Smart Servo High Speed (LSS-HS1)

Speed: 30 RPM
Torque: 14 Kg-cm

LSS-HS1
RB-Lyn-988

Lynxmotion Smart Servo High Torque (LSS-HT1)

Speed: 30 RPM
Torque: 29 Kg-cm

LSS-HT1
RB-Lyn-990