---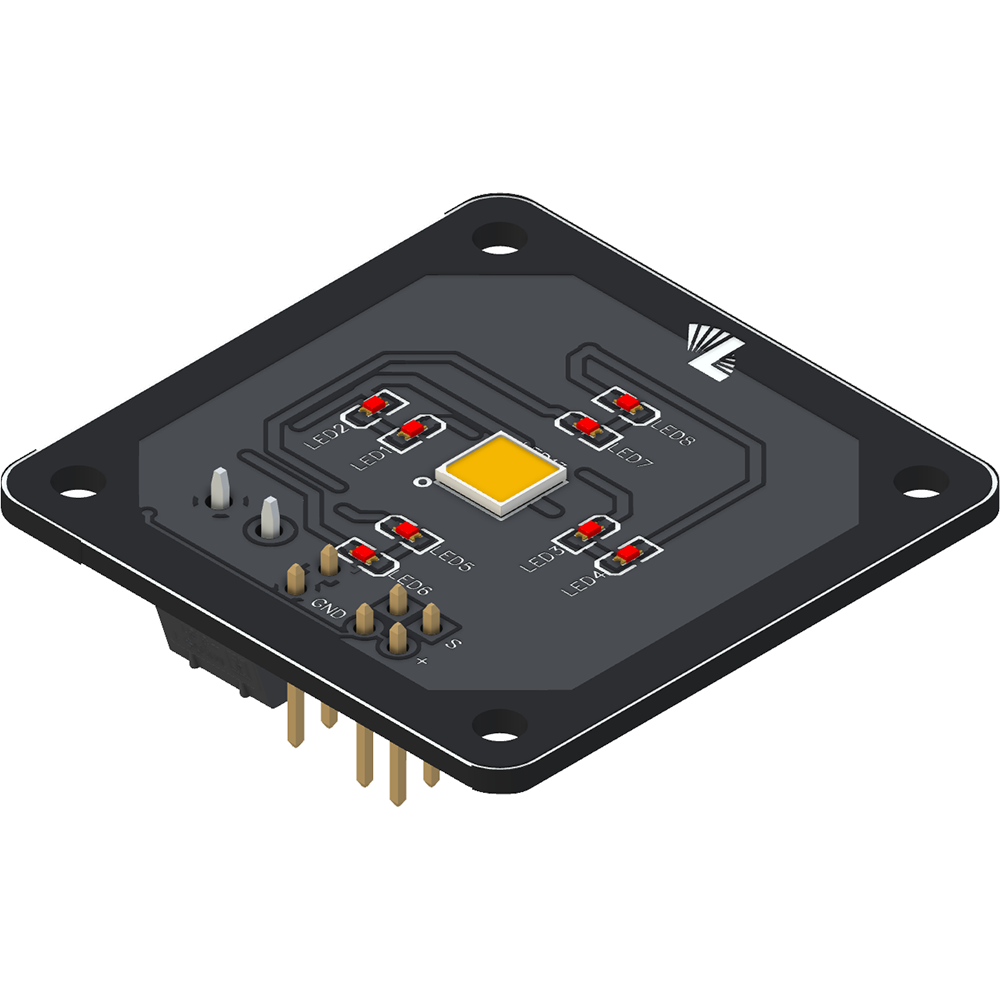 Table of Contents
Description
The Lynxmotion A4WD3 LED board was designed to be used within the frame of the Lynxmotion A4WD3 Rover, but can be used for all applications. The LEDs (white or all 8 red) can be controlled via power pins or using a microcontroller's 5V digital pins. Includes mounting hardware.
Applications
Lynxmotion A4WD3 front & back lighting
Microcontroller-controlled robotic light
Custom flashlight or bike light (front and rear)
Features
Independant control over the White or Red LEDs
Wide range of input voltage
Screw terminal connection for input voltage.
Specifications
1x central white CREE LED (JR5050BWT)
8x Red 0630 LEDs
Onboard voltage regulation
Operating voltage: 10.5V min / 23V max
Pinout
Positive: Positive voltage Input (10.5V min / 23V max)

Negative: Negative voltage Input

Ground: Negative connection point to be used when a microcontroller control the LED's to be at the same potential.

H1 Jumper: Control for the CREE white LED

Place a jumper between S & +

OR

Connect this to any source from 1.7V to 20V to S

H2 Jumper: Control for the red LEDs

Place a jumper between S & +

OR

Connect this to any source from 1.7V to 20V to S
Wiring
Jumpers

Positive: Positive voltage Input (10.5V min / 23V max)
Negative: Negative voltage Input

Jumpers:

H1 to activate the CREE white LED
H2 to activate the red LEDs

Microcontroller

Positive: Positive voltage Input (10.5V min / 23V max)
Negative: Negative voltage Input
Ground: Connect to the Negative or your Microcontroller

H1: Connect to a digital output (1.7V to 20V) to enable the CREE white LED

Note: PWM compatible

H2: Connect to a digital output (1.7V to 20V) to enable the red LEDs

Note: PWM compatible
Assembly Guide
Dimensions