---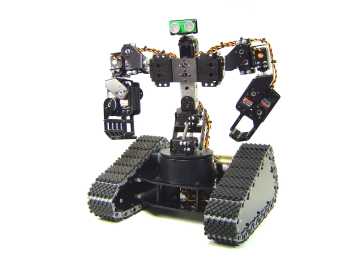 Table of Contents
Description
About the Johnny 5 Robot
The Lynxmotion Johnny 5 Robot Kit is a very cool and completely functional model of the ever popular movie robot. The kit is available as a full Johnny 5 combo kit, or just the torso and rotating base to be added to a different style base. The robot is designed for indoor or outdoor use and performs well on many different surfaces.
The Mechanics
The robot is made from Servo Erector Set aluminum brackets, custom injection molded components, and ultra-tough laser-cut Lexan structural components. The torso is fully articulated utilizing 8 x HS-645MG, 3 x HS-475HB / HS-485HB, and 3 x HS-422 servos, and our SSC-32 servo controller. By utilizing heavy duty polypropylene and rubber tracks with durable ABS molded sprockets the robot has excellent traction. It includes two 12vdc 50:1 gear head motors and the Sabertooth 2 x 5 motor controller.
Controlling the Robot
The combo kit includes the powerful Lynxmotion Sequencer Program for PC. You can control the robot from a PC with the included DB9 cable, or use a SparkFun bluetooth modem for wireless PC control. Check out our Assembly Guides page for BlueSMiRF and SSC-32 Configuration Tutorials for specific information.
Powering Options
The robot is compatible with the following batteries and chargers.
Accessories
> NiMH Quick Connect (mates to battery) (BATC-01)
> Battery Connector with Switch (WH-01)
Batteries & Chargers
o Servos
> 6.0 Volt Ni-MH 2800mAh Battery Pack (BAT-05)
o Sabertooth and Motors
> 12 Volt Ni-MH 1600mAh Battery Pack (BAT-01)
> 12 Volt Ni-MH 2800mAh Battery Pack (BAT-06)
o Charger
> 6.0 - 12vdc Universal Smart Charger (USC-02)
Important!
To keep costs down we are not providing printed Assembly Guides. They are provided online, so you will need to print them when you order the kits. By providing the Assembly Guides online we can provide more detailed and up to date information than the old hardcopy method allowed.
| | |
| --- | --- |
| | |
Specifications
Length = 10.00"
Width = 11.00"
Height (Overall) = 14.25"
Height (Base and torso) = 11.75"
Ground Clearance = 1.00"
Deck Height = 3.00"
Deck Dimensions = 7.25" W x 8.125" D
Weight = 6.25 lbs (no batteries)
Speed = 24.0 in/sec
User Guide
General
Johnny 5 Information
Additional Information