---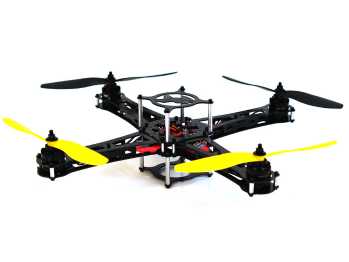 Table of Contents
Description
About the Crazy2Fly
The Crazy2Fly multi-rotor UAV is a smaller, high performance quadcopter. The Crazy2Fly can be flown in either '+' or 'x' configurations. The Crazy2Fly is smaller than the VTail and considerably easier to understand and fly. Don't let its simplicity and low cost fool you though - the Crazy2Fly lives by its name, and is capable of high speed aerial acrobatics and is a thrill to fly.
The Mechanics
The frame of the Crazy2Fly uses G10 fiberglass composite which is incredibly rigid and lightweight and offers significant price advantages over carbon fibre. The hardware is entirely metal, using lightweight aluminium standoffs, steel screws and lock nuts.
See specifications below for more information.
Electronics
The Crazy2Fly design can use most standard UAV controllers. The controller's function is to stabilize the aircraft using onboard sensors (usually a multi-axis accelerometer and/or gyroscope). In addition to the main controller, each motor needs an electronic speed controller (ECS) ideally designed for the very fast response time needed by performance multi-rotor aircraft.
Controller: FLIP (Multi-Wii compatible flight controller). This is one of the least expensive flight controllers on the market and uses the Arduino programming language. Onboard is an ATMega328 chip, a 3-axis accelerometer and a 3-axis gyro. All pins are pre-soldered.              
Alternately you can incorporate your own controller which uses a standard 30mm x 30mm or 45mm x 45mm mounting hole pattern (and includes compatibility for VTail designs)
Important!
To keep costs down we are not providing printed Assembly Guides. They are provided online, so you will need to print them when you order the kits. By providing the assembly guides online we can provide more detailed and up to date information than the old hardcopy method allowed.
User Guide