---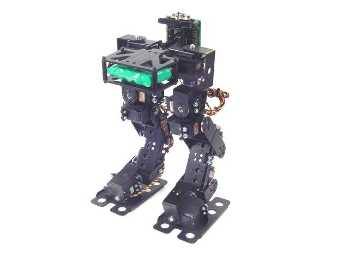 Table of Contents
Description
About the Biped Scout
The Lynx Scout robot is a twelve servo biped walker featuring six degrees of freedom (DOF) per leg. The advanced leg design features incredible flexibility. The chassis and servos are available separately for those who want to use their own electronics. No sample code is provided as this is an advanced development platform.
The Mechanics
The robot is made from black anodized aluminum servo brackets, ultra-tough laser-cut Lexan structural components, and custom injection molded components.
The Servos
The walker is intended to be used with either Hitec HS-5475 or HS-5645 digital servos. With the HS-5475 servos the robot is capable of walking but only with a minimum weight configuration (no extra weight). With the HS-5645 servos the robot is capable of doing acrobatics like the Robo-One robots. The digital servos can be used out of the box for walking, but in order to get full 180 degrees of rotation the servo programmer will be required.
Powering Options
As with any walking robot, weight is a major concern. The best approach is to keep the weight to an absolute minimum. We recommend using LiPo battery technology or the 6.0 Volt Ni-MH 1600mAh Battery Pack (BAT-03) and the Universal Smart Charger (USC-01).
Controlling the Biped
The robot can be controlled in many ways. The simplest method is a static balanced gait. We do not currently have programming available, but with the powerful SSC-32 Sequencer it is easy to get the robot walking. In the future the robot will be controlled by a wireless play station game controller for remote control. A more complex method would be to incorporate multiaxis accelerometer or gyro feedback for a dynamic balanced gait. Programming will be provided for autonomous control when available.
Important!
To keep costs down we are not providing printed Assembly Guides. They are provided online, so you will need to print them when you order the kits. By providing the Assembly Guides online we can provide more detailed and up to date information than the old hardcopy method allowed.
Specifications
No of DOF per leg = 6
Servo motion control = local closed loop
Height (as pictured) = 11.75"
Width (as pictured) = 7.5"
Ground Clearance = 6.25"
Weight (without batteries) = 39.7 oz
Range of motion per axis = 180 degrees
Accuracy of motion per axis = Servo controller dependent (SSC-32 = 09°)
Servo voltage = 6 vdc
User Guide
General
BPS/BPS2-KT Information
Additional Information