---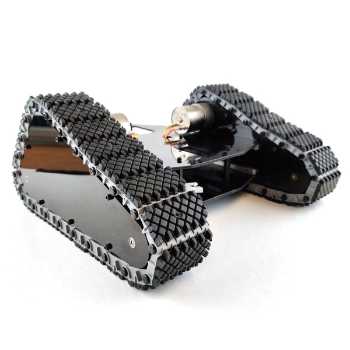 Table of Contents
Description
About the Tri-Track Robot
The Lynxmotion Tri-Track Robot Kit is a robust chassis for your RC or autonomous robot experimentation. The robot is designed for indoor or outdoor use and performs well on many different surfaces. With the addition of the optional Base Rotate an arm or large sensor array can be added, or even a Johnny 5 style robot can be made! The chassis is designed to accept the Bot Board and/or the SSC-32. There's room for the Sabertooth 2 x 5 RC motor controller and an assortment of battery packs with room to spare. The robot is capable of carrying up to a 5lb payload.
The Mechanics
The robot chassis is made from ultra-tough laser-cut Lexan structural components, and custom aluminum brackets. By utilizing heavy duty polypropylene and rubber tracks with durable ABS molded sprockets the robot has excellent traction. It includes two 12vdc 50:1 gear head motors.
Controlling the Robot
The robot is currently available only as a basic rolling chassis kit. However, check out this page for a complete Johnny 5 Kit.
Powering Options
The robot is compatible with the following batteries and chargers.
Chargers & Accessories
> 7.2 - 12vdc Universal Smart Charger (USC-02)
> NiMH Quick Connect (mates to battery) (BATC-01)
> Battery Connector with Switch (WH-01)
Batteries
> 12 Volt Ni-MH 1600mAh Battery Pack (BAT-01)
> 12 Volt Ni-MH 2800mAh Battery Pack (BAT-06)
Important!
To keep costs down we are not providing printed Assembly Guides. They are provided online, so you will need to print them when you order the kits. By providing the Assembly Guides online we can provide more detailed and up to date information than the old hardcopy method allowed.
Specifications
Length = 10.00"
Width = 11.00"
Height = 5.00"
Ground Clearance = 1.00"
Deck Height = 3.00"
Deck Dimensions = 7.25" W x 7.88" D
Weight = 3.0 lbs (no batteries or electronics)
Speed = 17.2 in/sec
User Guide